Raising awareness on intellectual property rights is essential in improving protection of the IP rights. Therefore, attention was on the outcome of the awareness activities in the Romanian Twinning project where awareness on IP was an important component.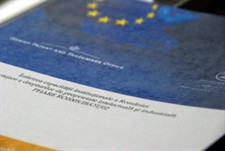 It was decided on the one hand to develop an awareness strategy that all beneficiary institutions could follow and on the other to define short term activities that should be implemented immediately.
"The process of developing the awareness strategy was a major achivement. It gave room for all institutions to come together and prioritise the different targets groups" explains expert Christina Aagaard-Jensen. The final strategy defines the challanges and main priorities on IP awareness raising in Romania, the targets groups and suggests different marketing tools to be applied.

The outcome of the short term activities was much more tangible. They included a TV-spot, a web-site www.stoppirateria.ro and a press-kit.